zlp 630 series operation platform/electric suspended platform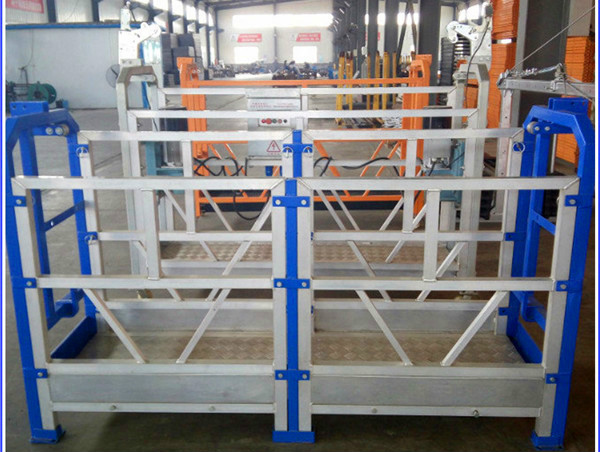 zlp 630 series operation platform/electric suspended platform
---
Suspended Platform is the construction machinery of aerial work in construction engineering. It acts on the curtain wall installation and the outer wall cleaning. The hanging basket is a new type of height working equipment which can replace the traditional scaffold, reduce labor intensity, improve work efficiency and can be reused. The use of construction basket has gradually become a trend in high-rise building construction, installation, maintenance and construction of curtain wall insulation cleaning exterior wall has been widely recognized by higher operation, and can be used for large tanks, bridges and dams and other operations. Use this product to avoid scaffolding. zlp 630 series operation platform/electric suspended platform.The construction cost is reduced, the construction cost is 28% of the traditional scaffold, and the work efficiency is greatly improved. The hanging basket is flexible in operation, easy to shift, convenient and practical, safe and reliable. There are as many as more than 400 manufacturers in our country.
Specifications and classification
---
According to the difficulty of construction and construction in different locations can produce the chimney with ring basket, ship hanging basket, basket, bridge detection furnace with super lift basket, basket, basket sliding rail type installation and other kinds of non-standard basket, according to the material can be divided into steel electric basket, Aluminum Alloy electric car, according to the power source of the lifting of the divided into manual and electric basket basket.
zlp 630 series operation platform/electric suspended platform
Property         Model No.
ZLP500
ZLP630
ZLP800
ZLP1000
Rated load( kg )
500
630
800
1000
Lifting speed( m/min )
9~ 11
9~ 11
8~ 10
8~10
Motor power( kw )
2× 1.5   50HZ/60HZ
2× 1.5   50HZ/60HZ
2× 1.8   50HZ/60HZ
2× 3
50HZ/60HZ
Brake torque( Km )
16
16
16
16
Steel rope angle adjusting range(° )
3° –  8 °
3° –  8 °
3° –  8 °
3° –  8 °
Distance between two steel rope( mm )
≤ 100
≤ 100
≤ 100
≤ 100
Rated stretch of front beam( mm )
1500
1500
1500
1500
Suspending platform
Locking
Aluminum alloy
Aluminum alloy
Aluminum alloy
Aluminum alloy
Nr.Of platform rack
Single rack
Single rack
Single rack
Single rack
Nr.Of platform
2
3
3
3
L× W × H ( mm )
(2000× 2) × 690 × 1180
(2000× 3) × 690 × 1180
(2500× 3) × 690 × 1180
(2500× 3) × 690 × 1180
Weight( kg )
350 Kg
375 Kg
410 Kg
455kg
Suspending mechanism(kg)
2× 175 Kg
2× 175 Kg
2× 175 Kg
2× 175 Kg
Counterweight(kg) optional
25× 30pcs
25× 36pcs
25× 40pcs
25× 44pcs
Diameter of steel rope(mm)
8.3
8.3
8.6
8.6
Max Lifting height(m)
300
300
300
300
Motor rotation speed(r/min)
1420
1420
1420
1420
Voltage(v) 3PHASES
220V/380V/415V
220V/380V/415V
220V/380V/415V
220V/380V/415V
Structure
---
(I) suspension platform;
The suspension platform is the construction site for the construction personnel. He is composed of four parts: the high and low railings, the basket bottom and the hoist mounting frame.
(two) hoist;
Hoist is a power component of suspension platform, and electric climbing structure is adopted.The hoist is driven by an electromagnetic brake three-phase asynchronous motor. After the worm gear and a pair of gears are decelerated, the hoist drives the wire rope conveyor to make the hoist along The work rope moves up and down so as to drive the suspension platform up or down.
(three) safety lock;
Safety lock is the protection device of suspension platform, when the wire rope suddenly broken or suspended platform is inclined to a certain angle, can automatically Secure the secure wire rope securely to ensure that the suspension platform does not fall or continue to tilt.
(four) suspension structure.
A suspension mechanism is a device that is mounted on top of a building and suspended from a suspension platform by means of a wire rope.
(five) electric control box;
The electric control box is used to control the movement of the suspension platform. The main components are mounted on an insulation board, a universal switch and a power indicator,Start button and emergency stop button device box door plate.
Applications (zlp 630 series operation platform/electric suspended platform)
---
1. High-rise building: Decoration, construction for external wall, installation of curtain wall and external components, repairing, checking, maintenance and cleaning for external wall
2. Large-scale project: construction, repairing and maintenance for large tank, chimney, dams, bridges, derrick
3. Large ships: welding, cleaning and painting
4. billboard: installation billboard for high-rise building
The main purposes of the suspended platform are:
1. Exterior wall construction and decoration of high-rise building, installation of panel wall and structural members of exterior wall.
2. Repair, maintenance and cleansing of exterior wall of high-rise building.
3. Construction, inspection, repair and maintenance of large project, for instance: chimney, dam, bridge and head frame.
4. Welding, cleansing and oil-painting of large ship.
5. Fabrication and installation of bulletin board on buildings at heights.
FAQ
---
Q: Brand?
A: SUCCESS, We also cooperate with Potian, Liebherr, SYM, SCM, Yongmao, GJJ, Baoda and etc.
Q: Delivery time?
A: Generally it is 5-10 days if the goods are in stock. or it is 15-20 days if the goods are not in stock, it is according to quantity.
Q: Terms of payment ?
A: Payment<=1000USD, 100% in advance. Payment>=1000USD, 30% T/T in advance ,balance before shipment.
Q: Quality assurance?
A: 100% original parts, 1 year of quality guarantee.
Q: Advantage?
A:(1) 12 years experience's supplier specialize in tower crane parts, professional engineers team at your request in time.
(2) Bulk parts storage, shorten delivery time.
(3) Special discount for you, as we have stable parts supplier for years.
Our Services
---
zlp 630 series operation platform/electric suspended platform
1.24-hours online consulation service is avaliable here.
Once you have any questions, just contact us and our professional staff will reply very quickly.
2. Market information also will be provided.
Since we are an experienced supplier of hoist parts, the market information about hoist and hoist parts will be offered as long as you contact us and ask for it.
Packaging & Shipping
---
Quick Details
---
Place of Origin: Shanghai, China (Mainland)
Model Number: ZLP500/630/800/1000, zlp500~1000
Rated speed: 9m/min
Material: Steel,Aluminum alloy,Galvanized steel
Voltage: 380V/50HZ,220V/50HZ
Rated Power(kw): 1.8*2
Color: Silver / Red / Yellow,according to your requirement
Length of platform: 1M-10M ( according to requirment)
Counter weight: 1000kg
Safety lock: RB-A30
Name: zlp 630 series operation platfo